Pizza!
I made 2 whole wheat pizzas and they were yummy. I'm really happy with the pizza dough recipe I've been using lately:
Amazing Whole Wheat Pizza Crust
It's easy and it tastes good.
My sister is in love with Papa John's pizza, but I think it sucks because they put like 3 little pieces of bell pepper on it! Lame! I put a ton of veggies on mine. Yellow and green bell peppers, mushrooms, olives, tomato slices, onions, and small pieces of "pepperoni" seitan.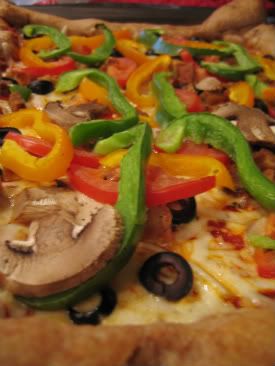 Pepperoni recipe story:
A few weeks ago I went crazy and decided to make two different kinds of pot stickers,
veggie stuffed
and
"meat" stuffed
. Well, I've been into making a ton of food so that I can freeze it and have insta-meals the next time I'm feeling lazy. :) So I made double the seitan that the pot sticker recipe called for and tossed it in the freezer. For the "pepperoni" I thawed and chopped the seitan and poured a little bit of soy sauce on them...and voilà instant pepperoni!