Spinach Gnocchi!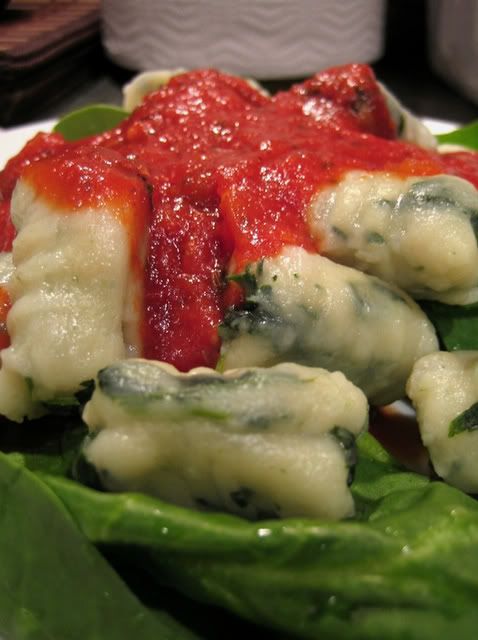 I've never made Gnocchi before, but it's surprisingly easy to make. I did make it in a pretty lazy way though... I microwaved 2 red potatoes (1 small and 1 large) and 2 white potatoes (1 small and 1 large). I just used those potatoes because they were the only ones I had. Then I grated them with a fork, added about 2 cups of flour, and about 3/4ths cup of frozen/thawed spinach. Mix it up, roll it out into a long tube thing on top of a floured surface and chop off segments of about 1" long. Maybe a little bit longer.

Then use your thumb to roll the little segments off of a fork to make cute little stripy groves on them. Toss the gnocchi into a large pot of salted boiling water (don't throw all the gnocchi in at once, do several batches). As soon as these little suckers float to the top scoop them out! Don't leave them in any longer or you will end up with mush like I did with my first batch!

Then open up a jar of spaghetti sauce heat and toss it over the gnocchi. Simple.

And a picture of an apple crisp I made as well: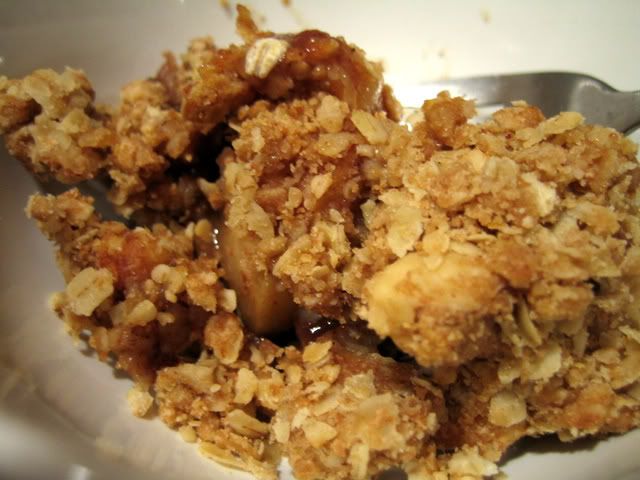 It was originally supposed to be an apple pie, but I made the gnocchi and a bunch of sausages beforehand, so I got too lazy to make a pie crust.